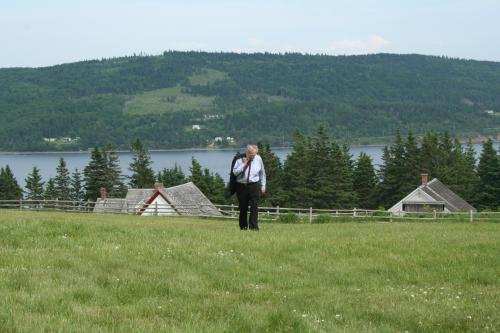 The family of Jim St. Clair and the board and staff of the Nova Scotia Highland Village Society invite you to join us for a celebration of Jim's life, featuring all the things he loved so dearly: stories, music, food, friends, and family.
It's been more than a year since Jim passed away, and we miss him every day. He was a beloved teacher, mentor, naturalist, storyteller, columnist and radio voice, community leader, historian, uncle, brother and friend. His boundless energy, curiosity and caring touched and influenced the lives of all around him.
We hope you can join us. Please let us know you're coming by RSVPing using the form, e-mail address or telephone number below, so we're sure we have enough oatcakes (and other goodies) on hand! The event will also be streamed and recorded; for those not able to attend in person, please select "I will attend online" when you RSVP below.
When
Saturday, August 27, 2pm-5pm (please arrive by 1:30 if you can!)
Where
Baile nan Gàidheal Highland Village, Iona (Malagawatch Church & new Welcome Centre)
To bring
Blanket or folding chair, memories, photos and mementos.
Note: If you have photos you'd like to include in the slideshow, please send via email to CelebrateJimStClair@gmail.com
Please RSVP by sending an email to CelebrateJimStClair@gmail.com, and include the following information:
I will attend the event in person (note number of people)
I will attend the event online
For more information or to RSVP via phone, please call 902-725-2272