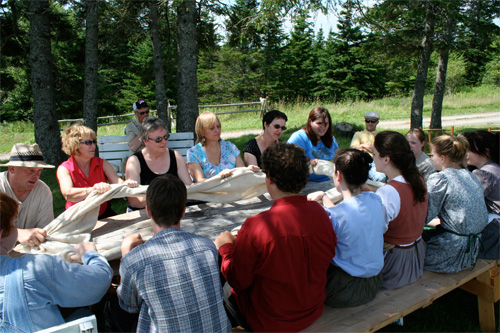 Highland Village History
The Nova Scotia Highland Village Society was founded in 1959, to create a living history museum to interpret, preserve and promote the Scottish Gaelic language, culture and heritage as found in Nova Scotia. In 2000, the Society entered into a new relationship with the Province of Nova Scotia, which resulted in the Highland Village becoming a part of the Nova Scotia Museum family. The Society continues to operate the site on behalf of the Province.
Vision
The vision of the Baile nan Gàidheal | Highland Village is to be internationally acknowledged for advancing research, fostering appreciation, learning and sharing Gaelic language and heritage while serving a vibrant Gaelic cultural community (i.e. a Gaelic institution).
Mission
The mission of the Baile nan Gàidheal | Highland Village is to research collect, preserve and share the Gaelic heritage and culture of Nova Scotia. Inclusive of Gaelic folk-life from settlement to present, including but not limited to, language, cultural expressions, lifestyles, crafts, customs, and represent it accurately and vibrantly.
Our Commitment to Gaelic
On June 20, 2009, the Nova Scotia Highland Village Society's Board of Trustees formalised the sites commitment to Gaelic with the adoption of the Village's first Gaelic Policy [PDF 136 KB]. It is the first such policy for any Gaelic related institution or organisation in Canada. A fully bi-lingual version of the policy is now available in pdf format by clicking the link above.