Scottish Tartans 'roadshow' with Tartan historian Peter MacDonald
Friday, June 24 – 2 pm – Malagawatch Church, Highland Village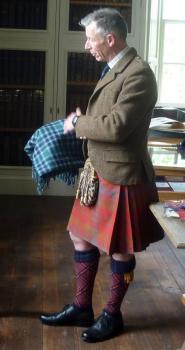 'We hope to find some rare pieces which have an important and dramatic past.' Tartan historian and Head of Research for the Scottish Tartan Authority, Peter Eslea MacDonald is on a mission in the Canadian Maritimes. The team is holding 'antiques roadshow'-like events in Antigonish, Cape Breton, and on Prince Edward Island. Everyone is invited to bring along family treasures of tartan to find out, or confirm, their age and origin.
As part of a new film series Tartan, Cloth of Legend, MacDonald and international award winning film producer, Deborah Dennison, are headed to Nova Scotia and Prince Edward Island to film some remarkably important pieces of cloth actually worn at Culloden in 1746 and woven before Highland dress was banned. These fragments of history were carefully transported by the families to new homes in Canada. MacDonald thinks that there may well also be important pieces yet to be discovered.
MacDonald and Dennison, who herself specialises in 18th century Scottish History, will also be giving talks on the subject, as they did last January for the sold out Falkirk Muir Battlefield Trust and Museum conference in Scotland.
MacDonald, from North Uist and a retired Lt Col from the British Army, is a skilled weaver himself. He has meticulously recreated some important 18th century tartans, including the famous Moy Hall sett reportedly worn by Bonnie Prince Charlie himself. He can usually tell the age just by looking at a fragment of cloth and the weaving techniques long lost.
'Both fashion forward and a garb of ancients, wearing this cloth was an act of seditious rebellion for the Jacobites, and one of stalwart loyalty for Scottish soldiers fighting for Britain around the world. It is a story full of passion, drama, and some humour.' Dennison said, who has just returned from New York where she filmed the week-long Tartan Day celebrations. The film series is in partnership with the Scottish Tartans Authority.
A passionately loved world-wide icon for millions of Gael from Singapore to North Carolina, Tartan has a long and fascinating story to tell.