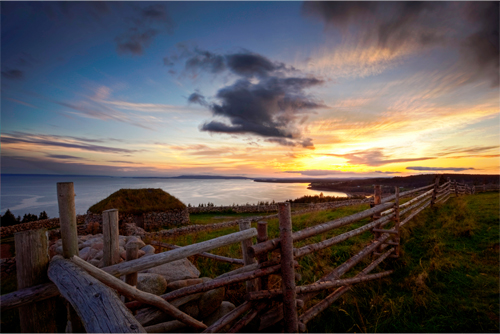 What Are We?
The Baile nan Gàidheal | Highland Village is an outdoor living history museum that tells the story of Gaelic settlement in Nova Scotia. We are located on a stunning 43-acre property overlooking the majestic Bras d'Or Lakes in Iona, Nova Scotia, the heart of central Cape Breton.
What to Expect
Our 11 historic buildings are staffed by costumed animators who are passionate  about sharing the Gaelic culture of our ancestors. We also host special events and programs throughout the year.
Dates & Rates
You can experience the Highland Village daily from June 1 - October 14. We offer Family & Group Rates.
Our Vision
Our vision is to be internationally acknowledged for advancing research, fostering appreciation, learning and sharing authentic Gaelic language and heritage while serving a vibrant Gaelic cultural community. The mission of the Highland Village Museum/An Clachan Gàidhealach, a living history museum, is to research, collect, preserve and share the Gaelic heritage and culture of Nova Scotia and represent it accurately and vibrantly.
Online Gaelic Resources
We have a list of online Gaelic resources for those who are interested in furthering their understanding of our unique history.