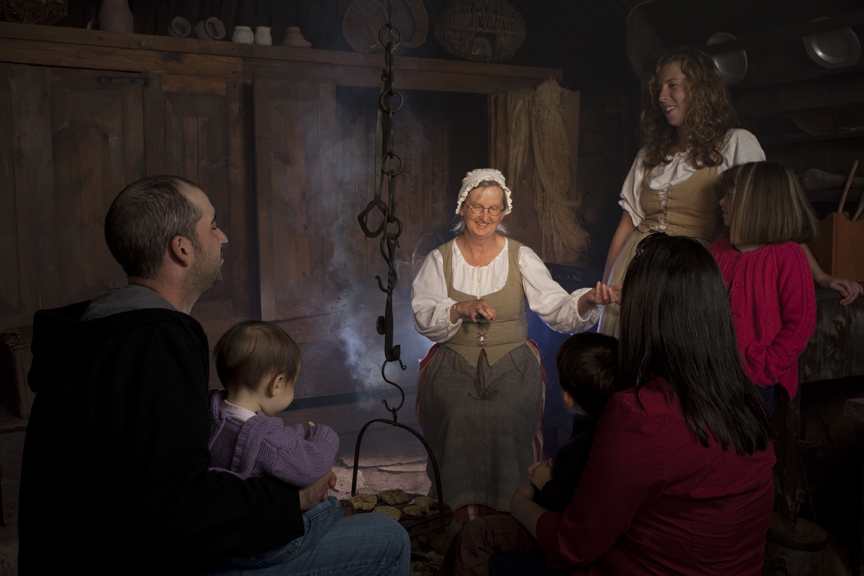 What You Will Find
Nova Scotia's incredible Scottish Gaelic culture comes alive on our stunning 43-acre property with costumed staff in full historic dress, an array of farm animals and much more. Our costumed animators will help you experience the history of settlement and the unique Gaelic culture of Nova Scotia. Our Highland Village Photo Gallery  and the Tour the Village section will give you a taste of what you can experience during your visit.
Take a tour up the hill and walk through period buildings with historic design, filled with related artifacts. Sit and enjoy a breath-taking view while listening to the annual Highland Village Day concert featuring premium traditional Cape Breton Gaelic music, song and dance.  We offer our walking guide in French (PDF 846 KB), German (PDF 616 KB) and Spanish (PDF 592 KB) for our visitors when they arrive on site. 
Gaelic
Gaelic scholars and enthusiasts will appreciate our commitment to research, and promotion of the Gaelic language, culture and history. We offer programs and events  throughout the year designed to bring together Gaelic scholars and learners.
Gift Shop
Be sure to visit the gift shop where you can find the finest selection of Cape Breton, Gaelic and East Coast music, Gaelic resources, Highland Village souvenirs, clothing, giftware and local crafts.
Roots & Music
Our Roots Cape Breton Genealogy & Family History Centre is a fabulous resource for those looking into their own Cape Breton connections.
We also are fortunate to have the MacLean Collection of Scottish Music here at the Highland Village. This major collection contains many early books of Scottish music and hand noted music of some of our best fiddlers.