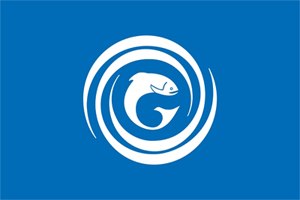 In 2002 a community consultation process identified a need for an image to represent Gaelic Nova Scotia. Comhairle na Gaidhlig / Nova Scotia Gaelic Council made the project a priority and commissioned a visual artist to develop an image with extensive community consultation. In May 2008 the Gaelic Flag was revealed.
The following description is from the Nova Scotia Provincial Office of Gaelic Affairs.
The image is that of a salmon in the shape of the letter 'G'.
The salmon represents gift of knowledge in the Gaelic storytelling traditions of Nova Scotia, Scotland and Ireland and the Isle of Man.
The 'G' represents the Gaelic language and the ripples are the manifestations of the language through its attendant culture: song, story, music, dance and custom and belief system.
The Nova Scotia Office of Gaelic Affairs is pleased to endorse the Gaelic Image for the Province as developed and presented by the Gaelic Council of Nova Scotia on behalf of the Gaelic Community.