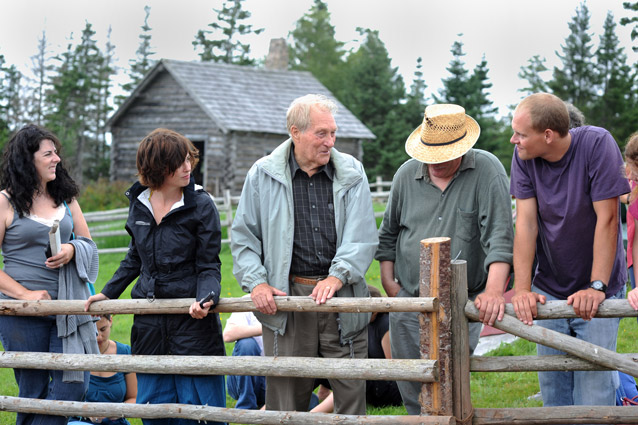 An Oral Culture
Gaelic was the only language of many thousands of Scottish Highlanders emigrating to Cape Breton Island during the early to mid-nineteenth century. While Gaelic possesses a centuries-old system of writing, many Gaels were illiterate in a formal sense. As such, the traditions of the Gaels have been passed on in a fashion similar to that of other native peoples world-wide through story-telling, song and conversation. The Gaelic language contains one of the richest oral cultures found in Western Europe at that time. Here in Nova Scotia we strive to preserve this ancient legacy.
Decline of Gaelic
At the time of Canadian Confederation, in 1867, Gaelic was the third most spoken language in Canada. As many as one hundred thousand Nova Scotians spoke Gaelic as their mother tongue in 1900. Today, estimates claim there are between 1000 and 2000 Gaelic speakers and learners in the province. The decline in Gaelic language is, in large part, due to educational policies and economic disparity. English became the language of choice in schools, politics, business and religion. In the early 1900's many students began school as Gaelic speakers, but soon were forced to learn English as that was the only language spoken in school. Many of our contemporary Gaelic speakers maintained their language at home and are now able to help pass on this beautiful and musical language.
Gaelic Renewal
Maintaining and growing Nova Scotia's Gaelic language and culture has many advocates. Community activism and provincial support have contributed to a growing infrastructure for Gaelic renewal. Important advancements include the following: creation of Comhairle na Gàidhlig (The Gaelic Council of Nova Scotia), declaration of May as Gaelic Cultural Awareness month and signing of the Memorandum of Understanding between the government of Nova Scotia and the Highland Council, Scotland. At local levels, organizations and individuals are regularly coordinating Gaelic classes and cultural events.
Gaelic language and culture is an essential part of the Nova Scotian identity, a Canadian treasure and internationally acknowledged for its cultural expression. Contemporary communities in conjunction with institutions like the Highland Village Museum are committed to developing and sharing Nova Scotia's Gaelic heritage with all who value it.
Highland Village is dedicated to preserving and promoting the Gaelic Language. If you are interested in learning more about the Gaelic Language we hold special events and programs throughout the year. We would love to share our stories and hear yours.