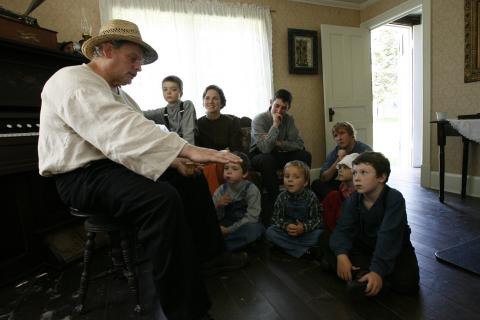 A session in the céilidh-house would usually begin with polite inquiries as to how everyone 's family and relatives were doing and move on to everyday news. After these formalities, the real storytelling could begin. Guests were especially fortunate if the céilidh was attended or hosted by a sgeulaiche, an exceptional storyteller who would be well versed in sgeulachdan. These are full length, elaborate tales which could sometimes take several evenings to tell.
General conversation was the basis of interchange although seanachas played a prominent role as a source of entertainment and informal education. Seanachas, which is oral tradition, is the ground floor for the Gaels' intellectual life. Going beyond light conversation, seanachas topics were inclusive, raising points for discussion on such important subjects as tales, legends, fairy-lore, genealogies, proverbs, local history, and songs. Occasionally, music and dance would round out the visit. Cape Breton is distinct in that, to the present day, the Gaelic culture and language have been maintained outside of the mother country and it is truly a North American Gàidhealtachd.
In fact, regarding instrumental music and dance, the Gaels of Cape Breton have preserved older cultural forms that have been lost in Scotland. In recent years, Cape Bretoners have been reintroducing these to the Scottish Gàidhealtachd.