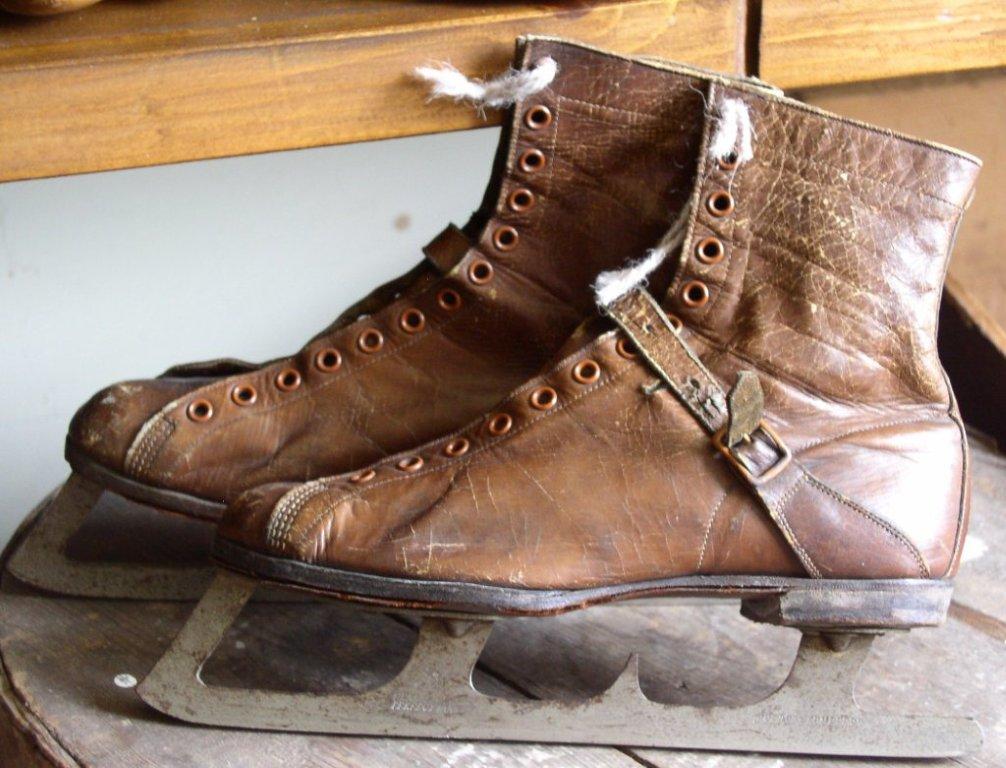 Artifacts From the Collection:
Leather high lace skates. There is an extra leather strap from the heel over ankle to top
of instep. Records say they are girls skates bought in 1916. McGready's Hockey Skates. 
Artifacts
Highland Village has over 3000 artifacts in its collection that represent the life of our Gaelic Ancestors in Cape Breton. From a braided wooden rope, to hooked mats, to furniture of early times, we have tried to gather items to support the interpretation of our Gaelic culture in Cape Breton. When they first came to the Island in the early 1800s, our Gaelic ancestors did not have many possessions. Some families brought a few items necessary for getting a good start in their new home. Spinning wheels are an example. Other families brought special family heirlooms. They worked with what was available in nature. The resources found in their new home provided for most of their daily needs. The forests provided wood for homes, chairs, tables and other items of daily life. Their natural ingenuity of the saw them make good use of what was at hand. Our museum portrays the "homemade" aspect in the buildings representing the early days of our Gaelic ancestors arrival, and "store bought" in the more 'modern' buildings. With the introduction of the railroad and the catalogue in the late 1800s, stores were able to bring in items from 'away'.
Library
The library has over 900 books with subjects ranging from Scottish and Cape Breton history, use of herbs, Mi'kmaq culture and information on care of artifacts. We collect Gaelic books to support the language. We continue the collection of Gaelic songs, oral history and stories to better interpret the Gaelic way of life in the museum.
MacLean Collection of Music Manuscripts
The Joe MacLean Collection of Scottish and Cape Breton Music has been added to our resources. This major collection contains many early books of Scottish music and hand noted music of some of our best fiddlers. Joe MacLean was a well-known Cape Breton fiddler who composed and performed for many years. He was known as a collector and had a genuine interest in helping young fiddlers learn the old ways and forge their own path. In keeping with Joe's tradition, music CDs of local Cape Breton artists are contained in our holdings. Check out our finding aids and learn more about Joe MacLean's Collection of Cape Breton Music. 
Other Research Resources
The Research Centre holds microfilm, family trees, books of family history and a growing collection of photos to support the interpretation of the museum and to aid researchers in finding ancestors. Subject files contain periodicals, newsletters, clippings and information on our history and cultural lives. For a more complete listing of available resources please check our Roots Cape Breton Genealogy & Family History Centre.
Our aim is to portray, as accurately as possible, the tangible and intangible culture that makes the Gael unique through artefacts, costumed animators, research and records.