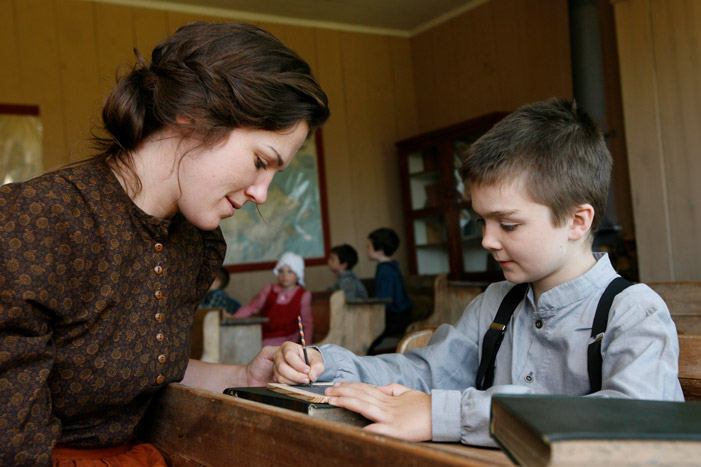 Baile nan Gàidheal | Highland Village is a living history museum and folk-life center that interprets and celebrates Gaelic Nova Scotia. On forty acres of hillside over-looking the Bras d'Or Lakes, the Gaels' customs and rural life come alive through costumed animators, farm animals, period buildings and artifacts. Daily demonstrations of culture and crafts place the visitor in the Gaels' world from immigration to the early 1900s.
Class visits to Highland Village prompt students to consider historical artifacts in relation to the people who used them. Students can trace the development of tools, implements, machines and other technologies during early nineteenth-century life in the Scottish Highlands up to the Great Depression era. The Village tour is based on an historical progression over succeeding time periods. Students will find an exceptional environment for comparing themselves with the people who came before them.
Visits to the Highland Village can accommodate both elementary and secondary students. 
On Site Educational Excursions for Schools 
Let your students experience the lifestyle of the Gaelic-speaking Scots in Nova Scotia with a visit to Baile nan Gàidheal | Highland Village. Learn a phrase in Gaelic. See activities such as spinning, weaving, blacksmithing, carding, and more. Full animation is available from June1st to the end of Celtic Colours Festival in October. Programming can be tailored to meet group needs.
Suitable for all ages, tailored to the needs of the group.
Allow 1.5-2 hours on site.
Cost: $5.00 per student (15% HST included)

Teachers and chaperones free.

We require one chaperone for every 10 students.

Pre-visit information packages are available.

Advanced bookings for tours are required and bookings are on a first come, first serve basis.

Picnic facilities are available at no extra charge.
Highland Village Pre-visit Orientation for Teachers
 
A special Pre-visit Orientation for Teachers PDF has been prepared with information on the village, its themes, ways to incorporate a visit into the curriculum and more.
What's Your Father's Name? - Family History Workshop
This special workshop on family history and genealogical research is offered through our Roots Cape Breton arm, and focuses on how to create your family tree.
Contact for Family History Workshop:
Poilìn NicGill-eain, Ban-sloinntear (Pauline MacLean, Genealogist): Pauline.MacLean@novascotia.ca
Other Resources for Teachers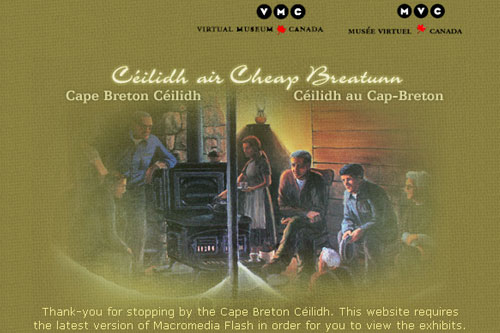 Céilidh air Cheap Breatunn (A New Virtual Museum of Canada exhibit) 
Ur Beatha Saoghal nan Gàidheal ann an Ceap Breatuinn! Explore the Gaelic Culture of Cape Breton Island. We invite you to learn about our proud heritage, passed on through countless generations and unique in North America, indeed the world. Take this opportunity to go back in time to meet the Gaels of Cape Breton and explore our ancient language and its vibrant traditions of song, storytelling, music and dance. We have a wonderful legacy and in the tradition of Highland hospitality Highland Village Museum/An Clachan Gàidhealach invites you to come and experience our world.
Click here for more webites of interest.