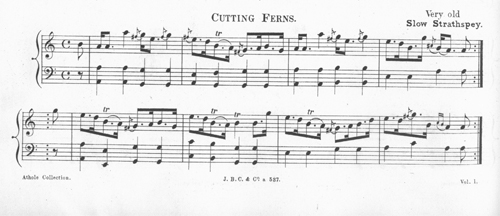 The Collection
We are thrilled that the The Joe MacLean Collection of Scottish and Cape Breton Music has a new home here at the Highland Village. This major collection contains many early books of Scottish music and hand noted music of some of our best fiddlers. Joe MacLean was a well-known Cape Breton fiddler who composed and performed for many years. He was known as a collector and had a genuine interest in helping young fiddlers learn the old ways and forge their own path. In keeping with Joe's tradition, music CDs of local Cape Breton artists are contained in our holdings.
Collection Index/Finding Aids
The collection consists of 104 published books of Scottish and Cape Breton fiddle music, all of which were either purchased by or given to Joseph MacLean and date from 1793 to 1996. Other records in the collection include: a photo of Joe MacLean, year unknown; correspondence between Joe MacLean and others regarding purchase of books and copies of new fiddle tunes for him to try; newsletters of the Cape Breton Fiddlers Association from 1974-1996; hand written music scores composed by Joe MacLean, Dan R. MacDonald, Dan H. MacEachern, Arthur Scott Robertson and others; scrapbooks of music scores - Joe's favourite tunes which contains tunes written by Joe MacLean and other tunes he liked and Dan R. MacDonald fiddle tunes; copies of tune groupings collected for playing together in sets.
Authorization For Use
While parts of the collection are in the public domain, some material remains protected by copyright (please ask the archivist (Pauline.MacLean@novascotia.ca) for clarification). You can make a single copy of items in the collection for research or private study purposes. Authorization must be obtained from the copyright holder if protected material is to be used in any other manner. Protected material may not be published without the permission of the copyright holder.
The entire collection has been indexed. It features a combination of books and loose papers in file folders. Below are the finding aids for the collection, available as downloads in both Adobe Acrobat pdf or Microsoft Excel file formats.
| | | |
| --- | --- | --- |
| A – Book Index by Title (4 pages) | PDF | MS EXCEL |
| B – Book Index by Publisher (4 pages) | PDF | MS EXCEL |
| C – Index of Folders – Tunes by Author (12 pages) | PDF | MS EXCEL |
| D – Index of Folders – Tunes by Title (13 pages) | PDF | MS EXCEL |
| E – Index of Folders – Correspondence (3 pages) | PDF | MS EXCEL |
| F – Index of Tunes in Books – by Composer (473 pages) | PDF | MS EXCEL |
| G – Index of Tunes in Books – by Tune (473 pages) | PDF |  MS EXCEL |
We wish to acknowledge the financial support of the Government of Canada through Library and Archives Canada for resources to index and properly house the collection.
Click here to find out more about Joe MacLean.