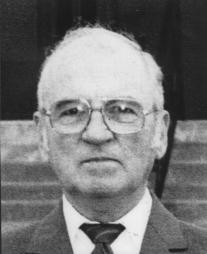 Joseph (Joe) W. MacLean was a well-known Cape Breton Island fiddler, composer and collector of "Scottish" music. He performed, not only across the Cape Breton Island, but also throughout eastern Canada and New England. He was regarded as an accomplished musician who had a genuine interest in helping young fiddlers learn the old ways and forge their own path. He was born in 1916 in Washabuck, Victoria County to Vincent and Theresa (MacNeil) MacLean. The family, which included brothers Alexander, Murdock, Leo, Peter F., Michael Anthony and John, and sisters Helen, Theresa, Lucy, Mary and Nancy, were widely known for their musical skills and accomplishments. The MacLean family was descended from emigrants, from the Isle of Barra in Scotland, who came to Nova Scotia in the early 1800's to build a better life for themselves. Joe was raised in the family home at MacKays Point, Washabuck, Iona Peninsula.
Joe began playing fiddle at 12 years of age. His father was an excellent dancer, so Joe was trained to be a dance player. In his teens, he began playing for dances and at parties with his siblings in the Washabuck area, and on his own in Middle River, Bucklaw and Baddeck. In the 1950s and 1960s, Joe made ten 78 recordings on the Celtic and Rodeo labels and three LPs. He had a large repertoire of traditional tunes gleaned from old Scottish books, his own compositions and tunes from around Cape Breton Island.
He began his working life at MacRae's General Store in Nyanza, Victoria County. He moved to Sydney in 1939 where he drove a taxi and worked a year at the Sydney Steel Plant. On January 6, 1941, Joe began his career with the Canadian National Railway. He retired in 1981 from CN where he had been employed as a brakeman, conductor and finally as the yardmaster.
He married Marguerite MacNeil, the daughter of Jim Hugh MacNeil, Sydney. They had eight children, including a daughter Stephanie and seven sons; Vincent J., Stephen, Allison, Rev. Lt-Cmdr Joseph, Ronald, John and James. Their home was on Alexandra Street, Sydney, Nova Scotia. He died August 22, 1996, in Cape Breton Regional Hospital, Sydney, NS.
He was not only a fiddler but also a custodian and promoter of the Gaelic fiddle tradition and music. Joe collected well over 100 published music books containing over 18,000 tunes including rare books from Nathaniel and Neil Gow, Scottish composers and publishers of music. Joe shared these resources with fiddlers from around the Island and his generosity with his time and talent was well known.
Joe also collected and was given tunes from noted Cape Breton fiddlers such as Dan H. MacEachern, Dan R. MacDonald, Bill Lamey, Donald Angus Beaton, John Campbell, Jerry Holland, Dave MacIsaac and many others. Before the advent of photocopiers, Joe would spend time copying tunes by hand for future use. Modern music books were also added to the collection. He was a part of the Cape Breton Fiddlers Association and played around the Island. He was active in many Scottish organizations and societies that promoted Scottish culture on Cape Breton Island such as the Cape Breton Gaelic Society and the Fiddlers Association. On many occasions, he donated his time, energy and talent in aid of charitable organizations.
This incredible collection was maintained by Joseph W. MacLean during his lifetime and kept in the home he shared with his wife and family at 49 Alexandra Street, Sydney, NS. After his death, the material came to his son Vincent J. MacLean and was maintained by him. Vincent J. MacLean donated the material to the Highland Village in 1999 and it has remained in the care of the Highland Village since that time.
It is important for the Highland Village to maintain the link between the language, the music and everyday Gaelic life. It is part of our mandate and a responsibility to our heritage. The mission of the Highland Village Museum/An Clachan Gàidhealach, a living history museum, is "to research, collect, preserve and share the Gaelic heritage and culture of Nova Scotia and represent it accurately and vibrantly". The Joe MacLean Collection of Music Manuscripts and Papers will allow us to continue this mission and further enhance the visitor experience.