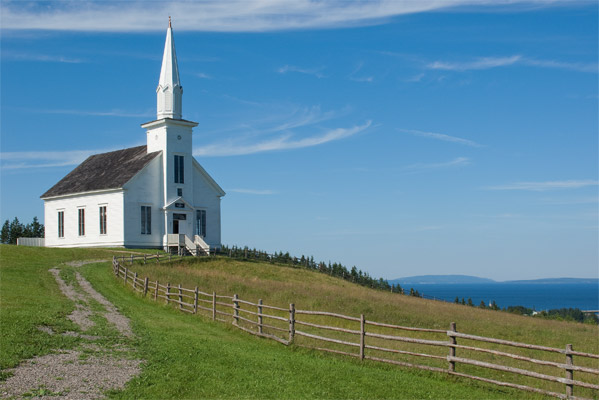 Malagawatch Church at the Highland Village
Overlooking the picturesque Highland Village with the backdrop of the spectacular Bras d'Or Lake, the historic Malagawatch Church (c. 1874) is the ideal location for your special celebration.
The Malagawatch Church is available for weddings, holy unions, commitment ceremonies, christenings, memorials services, funerals, church services and other functions. Civil ceremonies and ceremonies from various religious traditions are most welcomed. The church is not consecrated, nor is it any longer a part of any religious denomination.
For more information on renting the church, please refer to our church rental policy (PDF) and our application form (PDF). Please call for available dates. Weddings can only take place from May to October. Sorry, we do not rent the church for winter weddings or other functions.
As per Fire Marshall regulations, the maximum occupancy of the building is is 210 people. The Malagawatch Church is wheelchair accessible.
Wedding Photos
Looking for a scenic or period backdrop for your wedding photos? Consider the Baile nan Gàidheal | Highland Village. With period buildings dating from 1780 to 1920, and a spectacular view of the Bras d'Or Lake, the Village is a great location for wedding photos. Our location fee for photos is $50.00 (+ 15% HST) for one hour. For more information contact Janet MacNeil at janet.macneil@novascotia.ca
Tuning Room
Located on the lower level of the site adjacent to the main building, the tuning room can accommodate up to 100 people (seated). The rental fee is $100 for half day or $200 for a full day. (+15% HST). The Tuning Room is available for rentals during regular operating hours only.
Catering
Catering is available from local suppliers at an additional cost. For more information about wedding and facilities rental please contact Janet MacNeil at janet.macneil@novascotia.ca.