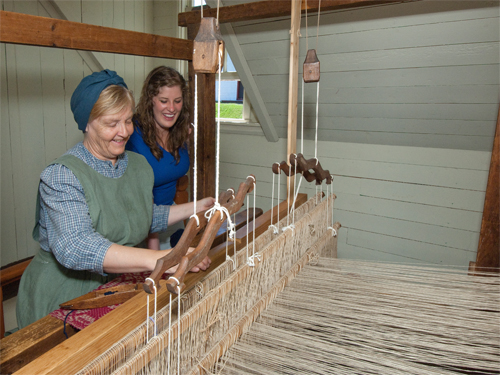 1. What is the Highland Village?
The Highland Village is a living history museum and cultural centre that celebrates the Gaelic experience in Nova Scotia. On a 43 acre hillside overlooking the world renowned Bras d'Or Lakes, Nova Scotia's rich Scottish Gaelic culture comes alive with costumed staff, farm animals and period buildings & artifacts. In addition to daily demonstrations in language and craft, the museum also has special education programs, learning vacations, and special cultural presentations. Roots Cape Breton Genealogy & Family History Centre is a service which assists researchers in searching for family history information. The Highland Village Gift Shop carries a wide range of Cape Breton and Celtic music, Gaelic language and local history books, local crafts and Highland Village souvenirs.
 
2. Is there food service on site?
There is no food service on site. However, there are a number of options in the Iona area. The Folk & Frolic Pub and Jill's Chocolates Cafe (http://jillschocolates.com) at the Iona Heights Inn (www.ionaheightsinn.com) are located next door to the Highland Village (we share the same driveway!) Other local options include the Wheelhouse Café (http://www.grandnarrowswaterfront.com/wheelhouse.html) in Grand Narrows (5 min) and Darby's Old Church Kitchen in McKinnon's Harbour (7 min). As well, the Beaver Cove Take Out is located in Beaver Cove (20 min) and there are various food establishments in Whycocomagh and Eskasoni (30 min). 
3. Can we take our pets?
Dogs are permitted on site as long as they are on a leash.
 
4. Is there camping on site?
Camping is not permitted on site. There is licensed camping at Time Out Campground & RV Park which is located 15 minutes west of the Highland Village in Estmere. Other campgrounds are located in a 30 to 40 minute drive from the Village. For more information see novascotia.com.
5. Is the site wheelchair accessible?
Given the topography of our site and the historic nature of our buildings, Highland Village does have some accessibility limitations. We are striving to make our site more accessible. For more information, please see our Accessibility page.
 
6. Can we take our vehicle around the site?
Vehicles are not permitted in our Living History Museum. There is ample parking by our Visitor Centre. Also, we have two special parking areas, which will permit those which walking difficulties better access to our period buildings. Information on these parking areas is available at our Reception Desk in the Visitor Centre.
7. Can we park our RV on site?
The parking lot at the Visitor Centre allows parking for cars, trucks, RVs and buses. However, overnight parking or camping is not permitted. See question #4 above.
8. What type of walking is required?
There is a fair amount of walking required to complete the tour (approx. 1/2 mile). Half of the tour is uphill and the rest is down hill. The route includes stairs and gravelled pathways. We recommend good comfortable walking shoes. As described above, we do have parking areas available on at the top of the hill and midway down the hill for those with walking difficulties.
 
9. Can we feed the animals?
The Highland Village is home to Highland Cows, Soay sheep, a horse, a pig and poultry for the summer months. These animals all require different diets. We ask that you do not feed our animals.
 
10. Is there swimming in the area?
There are many beaches in the Iona area. However, these are not supervised by life guards. Please use at your own risk.