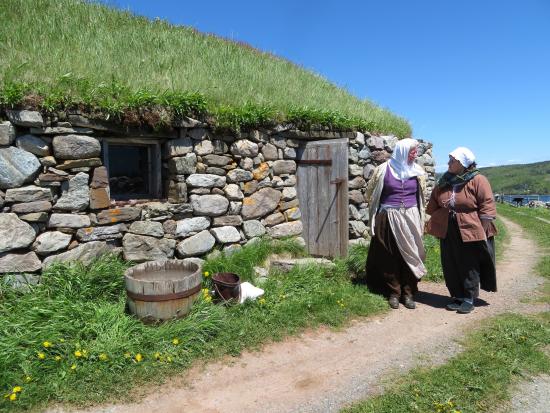 Volunteer animators will help deliver an excellent visitor experience at Baile nan Gàidheal │Highland Village. This is an exciting role that offers volunteers the chance to actively engage in shaping their historical character and animation content before donning their costume and taking their place in one of our eleven historic buildings.
About Baile nan Gàidheal
Baile nan Gàidheal is an outdoor living history museum that tells the story of Gaelic settlement in Nova Scotia. There are eleven historic buildings on site that represent four different eras in the history of Gaelic settlement here from the 1770s to the 1920s. From June to October the stories of the Gaelic communities in Nova Scotia are brought to life by costumed animators in the various buildings.
Role of a Volunteer Animator
We are looking for volunteers to join our Animation team and help keep the site lively and interesting. We are busy through the whole of the summer season (June to mid-October); in addition to our daily visitors from all over the world, we also have many school visits in June and cruise ship groups almost every day in September and October. Whilst there are no strict requirements regarding how many days an individual must volunteer we desire a minimum commitment of two days per month through the summer season (a minimum of two hours per day). Volunteer schedules will be flexible. The Coordinator of Animation and Programs will act as Volunteer Coordinator for Animation Volunteers.
Volunteer Specification
To successfully contribute to delivering our excellent visitor experience, we are looking for individuals with an interest in animating in character and in costume who:
Are approachable, friendly, and enthusiastic;
Can work in a team;
Have good communication skills, are comfortable interacting with different age groups, and are confident and happy to initiate conversations with members of the public;
Can take and act on instructions, including health and safety procedures;
Can provide directions and guidance on the local area to the public as required.
Application Process
If you meet the specification above, are interested in historical animation, and can commit to the minimum availability requirement, please fill in the Volunteer (Adult 18 or over) or Volunteer (Youth under 18) Application Form. If you are under 18, you must have permission from your guardian to volunteer at Baile nan Gàidheal.
We will invite individuals for an informal interview and site tour; this will give the applications the chance to gauge if the site layout is physically manageable and make a personal judgment towards their suitability as an animator.
Please note that we require applicants to provide photographic identification at the interview and to provide a Criminal Record Check dated within the last 12 months, if successful. If an applicant must obtain a new Criminal Record Check for this volunteer opportunity, Baile nan Gàidheal will reimburse the cost.
Additional Information
Experience of delivering animation would be welcome but is not essential.
Although prior historical knowledge is not required, an appreciation and enthusiasm towards Baile nan Gàidheal's role is essential – further information on the museum's role can be provided if desired.
Individuals must be happy to volunteer outdoors and in inclement weather.
Baile nan Gàidheal will supply all costumes to volunteers.
Baile nan Gàidheal does not reimburse travel expenses.
We are committed to continually improving our visitor experience offerings, and feedback about our volunteer program and its participants may be sought at the site from volunteers, staff, and visitors.
Due to the historic and geographic nature of the site, accessibility for those with mobility challenges or disabilities is not always possible throughout the entire site, so there may be aspects of the Volunteer Animator role which may be unsuitable. Please get in touch to discuss this further if you have any concerns and we will be happy to consider any adjustments we can reasonably make to accommodate individual health and well-being requirements.