The Highland Village shares Nova Scotia's rich Gaelic languag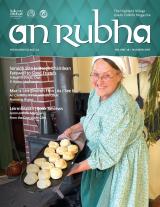 e, culture and folklife through An Rubha: our Gaelic Folklife Magazine. An Rubha is Gaelic for the point, a reference to Rubha Eachann (Hector's Point), where the Highland Village is located.
An Rubha features songs, stories and other forms of cultural expression, articles on Gaelic history, material culture and other aspects of Gaelic folklife, and news from the Highland Village.
Click here (PDF 12 MB) for the latest edition of An Rubha.
Printed Copies
Printed copies of An Rubha are mailed out to members and other stakeholders of the Highland Village. To subscribe click here.
Digital Copies
Digital copies current and back issues of An Rubha are available in pdf format. Some back issues of Naidheachd a'Clachan, our newsletter prior to An Rubha are also available.