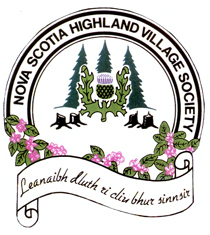 In 1979, to mark the 20th anniversary of the Nova Scotia Highland Village Society, the board instituted an annual Award of Merit program. The program was designed to recognise those who have made outstanding contributions to the Highland Village and/or to Scottish Gaelic culture in Nova Scotia.
Award Recipients:

1979 
Tom Cash
1980
Major C.I.N. MacLeod
1981
Rev. A.D. MacKinnon
1982
CBC Sydney
1983
Stephen Rory MacNeil
1984
Rev. A. A. Ross
1985
Peter F. MacLean
1986
Capt. Angus MacNeil
Hugh J. Murphy
Hugh F. MacKenzie
Bill McCormack
1987
John Dan & Catherine MacNeil
1988
Joe Neil MacNeil
1989
Dr. Donald Ferguson
1990
Frances Hector MacNeil
1991
Margaret & Archie Neil Chisholm
1992
Rev. John Angus Rankin
1993
Donnie Campbell
1994
Hector MacKenzie (Special)
Archie Alex MacKenzie
1995
Rev. Donald Sutherland
1996
Malcolm S. (Maxie) MacNeil
1997
Alex C. MacLean
1998
Evan Lloyd
1999
Ray "Mac" MacDonald         
2000
Mae Cameron
2001
Vincent W. MacLean
2002
Catherine "Honey FX" MacNeil
2003
The Boisdale Trio - Janet Cameron, Paul Wukitsch and Joe Peter MacLean
Iona Gaelic Singers - Beth MacNeil, Peter MacLean, John Dan MacNeil, Dan Rory MacNeil, Joe MacNeil, Michael MacNeil, Jim Francis MacNeil, Maxie MacNeil, John Rory MacNeil, Rod C. MacNeil, Jamie MacNeil, Michael John Mickey MacNeil, Neil John Gillis and Johnny Gillis
 
2004
Mary Margaret MacLean
2005
J. Bruce MacNeil
2006
James O. St Clair
2007
Dan E. MacNeil
2008
David Newlands
2009
Aggie MacLeannan
2010
Jean & Columba MacNeil
2011
Helen MacNeil 
Lou MacKenzie
2012
Catherine Alex MacNeil
Anna Hector MacNeil (Posthumously)
2013
Rod C. MacNeil
Joe Peter MacLean (Posthumously)
2014
Hector MacNeil
2015
Féis an Eilein
2016
Trueman & Laurinda Matheson
2017
James "Seumas" Watson (With Excellence)
2018
Anna MacKinnon
2019
Charlie Cash
2020
Flora Ann MacIsaac
2021
Catriona Parsons
2022
Michael "Mickey John H" MacNeil
Award of Merit Policy & Nomination From - PDF 
Award of Merit Policy & Nomination Form - Word Doc.